Hilliard Food Pantry Aid
From the Food Pantry: The health and well being of our customers and volunteers are top priorities for us at the Hilliard Food Pantry. To that end and due to the coronavirus pandemic, the food pantry will move its current shopping model to prepacked boxes. That is where you come in!
Shifts to pack boxes are limited to groups of 6. With the current situation, we are not permitting volunteers under the age of 14 regardless if they are accompanied by a parent. There will be no exceptions.
Response to help the Food Pantry has been fantastic! We were able to cover all of week one's slots - preparing food boxes for those in need. They have reached out and asked for help with week two. I'm asking everyone to come help for one shift. (You'll be working alongside 5 other people assembling boxes to be handed out the next day to the community). In addition, the food pantry has asked for drivers to deliver meals to houses. You'll see both of these links to help here:
From IFI, on supporting international college students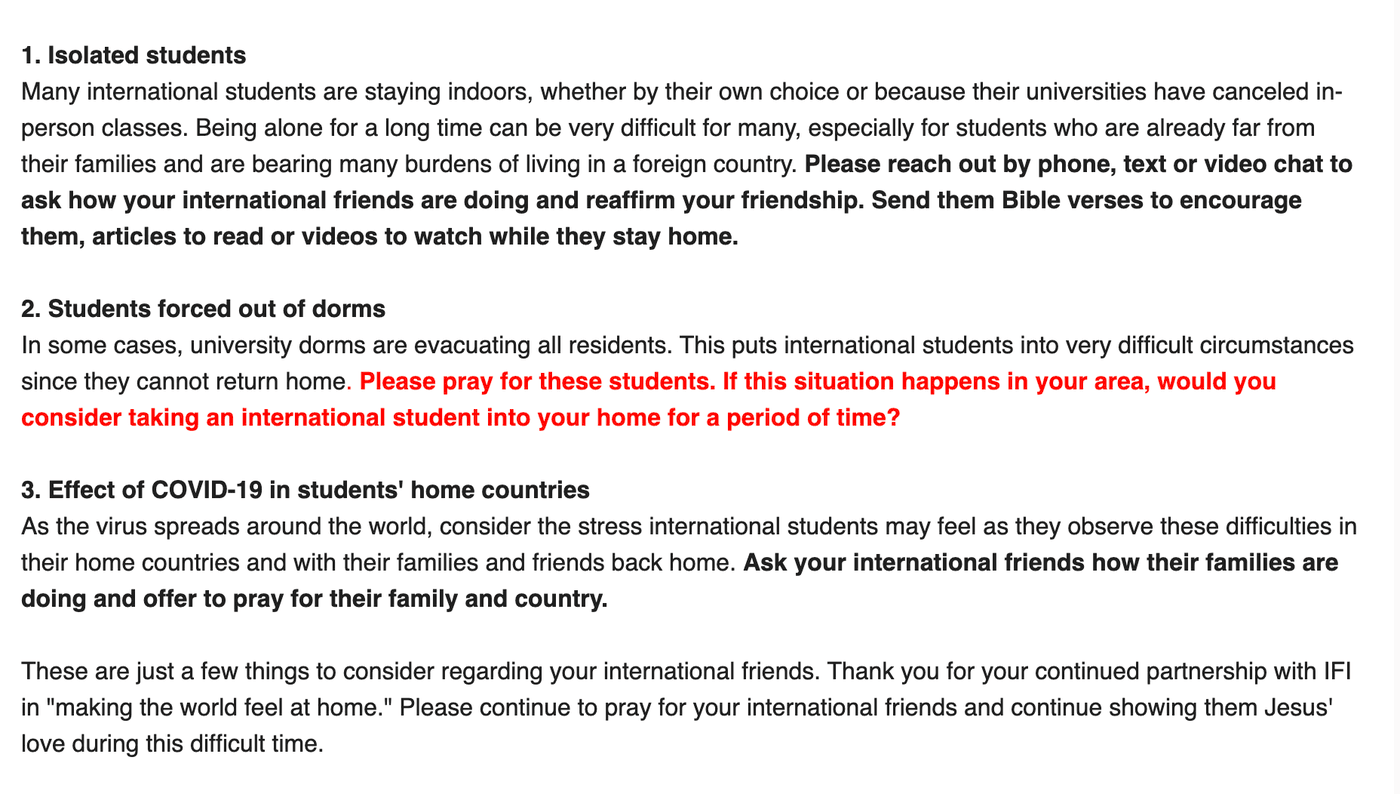 Join our Missional Facebook Group
Mission Wall in the Hallway - ongoing needs
Help the homeless with Hygiene Bags:
Gallon size Ziplock bag with any of the following: toothpaste, toothbrush, bar of soap, chapstick, razor, washcloth, travel size: shampoo, tissues, wipes, shaving cream, lotion.
Snacks such as: cheese crackers, tuna pouches, peanut butter crackers, granola bars, protein bars
Great for doing together as a group, family or on your own.
Donate new or used Bibles to men's prison ministry run by Rob Mitchell:
Rob helps lead a Bible Study sharing the Bible up to 100 men in process of being processed before serving their sentence. Some of these men spend up to 23 hours a day in their cells. The Correction Reception Center in Orient is in need of about 2000 Bibles a year.
Your Mission
Are you organizing a missions effort? We are looking to compile information about all of our missions in order to collaborate. If you're involved in any mission please let us know using the form below. We're compiling missions opportunities into an ongoing resource (visit the "Local Missions" card to see a list of ways you can help out). Fill out the form below to let us know of missions you're involved in where we can invite other LCCers to participate.